Fresh Beat Records (US) [FBR-002] 1985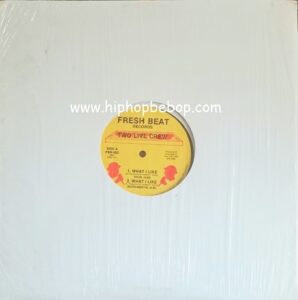 This is the second release from original 2 Live Crew members and the final release for short-lived Fresh Beat Records. The scratch version featuring the beatbox solo by MC Jammin C was made famous here in the UK by the likes of Mike Allen.
Amazing Vee left the group following this release.
There is just the one pressing as far as I know plus a 1987 reissue which also includes the groups first release. This reissue was released in a plain generic sleeve but there is also a harder to find picture sleeve which is pictured below. Also, the runout groove is slightly different for the vinyl that came with the picture sleeve. It was also released as a B side to the 2005 reissue on Electro Eternal.
---
Original Fresh Beat Release 1985 [FBR-002]
Side A
What I Like (Vocal) [4:30]
What I Like (Instrumental) [4:35]
Side B
What I Like (Scratch Version) [7:05]
Macola Reissue 1987 [MRC-1014]
Side A
What I Like (Vocal) [4:30]
What I Like (Instrumental) [4:35]
Side B
The Revelation [6:09]
---
---