Afrika Bambaataa & Family – Funk You!
Tommy Boy (US) [TB 870] 1985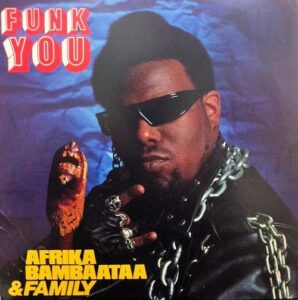 First release taken from Bambaataa's second album "Beware (The Funk Is Everywhere)" with production from Fats Comet and featuring vocals from Double Cross MC's, Dynamic Force, Shango, Soul Sonic Force and more.
There is a standard release with 5 tracks which includes a hidden track on side A and also a hard to find test pressing with only 3 tracks.
---
Test Pressing
Side A
Funk You! (Radio Mix) [5:42]
Side B
Funk You! (All The Way Live) [4:36]
Funk You! (Dub Instrumental) [5:04]
Normal Release
Side A
Funk You! (Radio Mix) [5:42]
(Hidden Track) [?:??]
Funk You! (Club Mix) [6:20]
Side B
Funk You! (All The Way Live) [4:36]
Funk You! (Dub Instrumental) [5:04]
---
---