Hashim – Al-Naafiysh (The Soul)
Cutting Records (US) [CR-200] 1983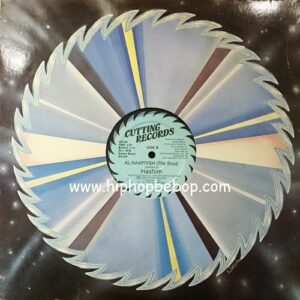 Jerry Calliste Jr. aka Hashim began his career promoting events while at school. His first successful event was a DJ battle between DJ Grand Wizard Theodore and DJ Whiz Kid (R.I.P.). He began his actual music career as a janitor for Tom Silverman at Tommy Boy Records and was refered to Tom by Whiz Kid to do some graffiti art for the label. He taught himself to play the keyboard and later co-founded Cutting Records with Aldo & Amado Marin and launched it with his debut track, "Al-Naafiysh (The Soul)" which went on to be one of the all-time classic electro tracks.
This used to be a favourite record to cut up back in the day as it included the vocals "It's Time" and "Just Feel It".
There are a variety of label variations, reissues & remixes, most of which are pictured and listed below. The first two pressing were just different shades of blue and the third had the label name slightly higher. It was repressed in 1987 with the new label address to the left instead of underneath and again in 1994 but with the addition of a barcode. Then in 2000 it was given the remix treatment.
2018 then saw a promo 7″ edit release on newly formed 45 Edits label.
---
Original 1983 Release [CR-200]
Side A
Al-Naafiysh (The Soul) [6:06]
Al-Naafiysh (The Soul) (Bonus) [1:27]
Side B
Al-Naafiysh (The Soul) [5:26]
Al-Naafiysh (The Soul) (Bonus) [2:10]
The Y2K Remix 2000 [CR-445]
Side A
Al-Naafiysh (The Soul) (Johnny Vicious Remix) [7:07]
Side B
Rock It Don't Stop (Entropic Mix) [11:58]
The Limited Edition Remix 2000 [CR-447]
Side A
Al-Naafiysh (The Soul) (Johnny Vicious Trance Mix) [6:43]
Side B
Al-Naafiysh (The Soul) (Pull & The Crippled Master Mix) [5:57]
Al-Naafiysh (The Soul) (Mando's Y2K Big Beat Mix) [5:08]
45 Edits release 2018 [45-100]
Side A
Al-Naafiysh (The Soul) (Edit 1) [4:29]
Side B
Al-Naafiysh (The Soul) (Edit 2) [4:32]
---
---