Tanya "Sweet Tee" Winley – Vicious Rap
Paul Winley Records (US) [12X45-6 / 12X45-1] 1980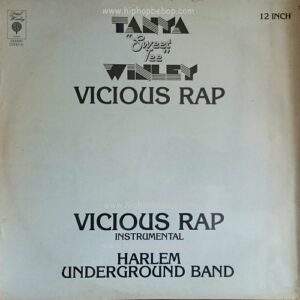 This was the debut and only release by Tanya Winley as a solo artist and is an example of one of the first conscious raps. Music is provided by in-house group of the time, the Harlem Underground Band and it was written by Tanya and Afrika Bambaataa. The track was recorded in 1978 but not released until 1980 following the success of "Rhymin' And Rappin'" and is indicated on the later reissue by the additional print on the sleeve.
There are two different versions of this release, one with the instrumental on the flip and the other with the classic funk track "Bra" by Cymande and both have label variations.
Let's deal with the instrumental version first. The first pressings have a white printed sleeve but the reissue has one side black and the other white. Although the text is all the same the reissue with the black side also includes the additional text "First female rapper" and "Rap classic 1978". All versions have a single large press ring but on the very first pressings it is deep and wide.
On the version with Cymande on the flip there are two label variations where the circular logo to the left is different. I don't know which came first but one pressing doesn't have the additional stem below the circular logo on side A.
The intro to Vicous Rap was used for the 1992 Diamond D track "Best Kept Secret" by Diamond & The Psychotic Neurotics.
Tanya "Sweet Tee" Winley on Wikipedia
Paul Winley Records on Wikipedia
---
Version 1
Side A
Tanya "Sweet Tee" Winley – Vicious Rap [7:30]
Side B
Harlem Underground Band – Vicious Rap (Instrumental) [6:00]
Version 2
Side A
Tanya "Sweet Tee" Winley – Vicious Rap [7:30]
Side B
Cymande – Bra [5:00]
---
---