Bon Rock & The Rythem Rebellion – Searching Rap
Reelin & Rockin Records (US) [1001/1002] 1981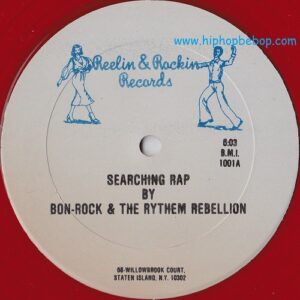 This is the debut release for Bon Rock (Keith Rodgers) and was the first for Reelin & Rockin Records based in Staten Island. He was a DJ at the time and had his own show called Bon Rock Live on W.H.B.I. 105.9FM. The track used the classic disco track "Searching To Find The One" by Unlimited Touch.
There are a few label variations for this release including a limited press on red vinyl.
Bon Rock went on to release further tracks before having major commercial success in 1983 as a background member of the group Break Machine.
---
Side A
Bon Rock & The Rythem Rebellion – Searching Rap [6:03]
Side B
Rythem Rebellion – Searching To Find The One (Instrumental) [6:03]
---
---