Doug E. Fresh – Just Having Fun
Enjoy Records (US) [EN-0035] 1984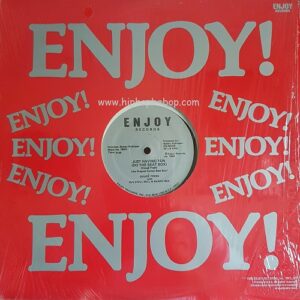 Following his release as part of the Boo-Dah Bliss Crew and a movie appearance with the Treacherous Three performing "Santa's Rap" in the movie Beat Street, this is the debut release by Doug E. Fresh (Dougé Fresh) as a solo artist and features DJ's Chill Will and Barry Bee prior to them being called the Get Fresh Crew.
There are a few label variations for this release which are pictured below. The supposedly first pressing is on Sound Makers Records but there a few questions regarding it. It says on the label that it's licensed from Enjoy Records and has the same number for it's catalogue number as the Enjoy release which seems to suggest that it is a second pressing. However, as a lot of people seem to think it's the original release it could also have been pressed on Sound Makers first as a way of 'testing the water' ready for a full Enjoy release. Another theory is that it was a way to pay the bill of the Enjoy release. Bobby Robinson may have allowed Sound Makers to press a certain quantity themselves to use as payment or similarly, may have run out of money after the first Enjoy pressing and done the same to allow further pressings. I'm not really sure which came first but the label variations are below and if anyone knows for sure please let me know. It was also reissued by Enjoy with a different catalogue number and slightly different track list.
This wasn't the first time this happened with Enjoy releases. The previous year the same thing was done with Masterdon's "Funk Box Party" although that was in 1983 and the original Enjoy release was 1982 making the Sound makers pressing a reissue.
This track was released in 1985 in the UK on Morgan Khan's Streetwave together with his next release, 'The Original Human Beatbox' and featured the additional Mastermind mix of both tracks.
---
Sound Makers [SM-0035] & Original Enjoy Release [EN-6035]
Side A
Just Having Fun (Vocal) [5:29]
Bonus Lesson #1 – No Music [1:56]
Side B
Just Having Fun (Do The Beat Box) [5:40]
Enjoy Reissue [ER-6035]
Side A
Just Having Fun (Do The Beat Box) [5:40]
Side B
Just Having Fun (Instrumental) [5:42]
Bonus Lesson #1 – No Music [1:56]
Streetwave (UK) [MKHAN 64] 1985
Side A
Just Having Fun [5:26]
Bonus Lesson #1 [1:57]
The Original Human Beat Box [6:19]
Side B
Just Having Fun / The Original Human Beat Box (Fresh Mix) [5:08]
---
---