Tommy Boy (US) [TB 847] 1984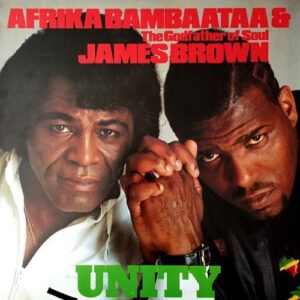 The Godfather of hip hop, Afrika Bambaataa, and the Godfather of soul, James Brown, join forces to spread a message of worldwide peace with this 6 part hip hop/funk collaboration. Music is courtesy of Doug Wimbish (Bass), Keith LeBlanc (Drums), Skip McDonald (Guitar), Chops (Horns) and Anthony Marinelli, Brian Banks & Robin Halpin (Synthesizer).
There are just a couple of label variations that I know of with one having more prominent b-boy characters.
The Beastie Boys sampled the vocals for the track 'Shake Your Rump'.
---
Side A
Unity (Pt.1 – The Third Coming) [3:20]
Unity (Pt.2 – Because It's Coming) [3:30]
Unity (Pt.3 – Nuclear Wild Style) [3:29]
Side B
Unity (Pt.4 – Can You See It) [6:47]
Unity (Pt.5 – The Light) [4:15]
Unity (Pt.6 – World War III) [2:44]
---
---