Tommy Boy (US) [TB 831] 1983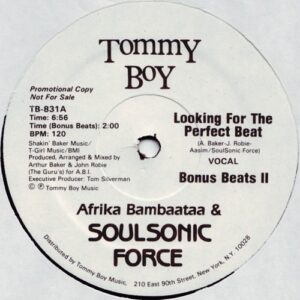 Follow up to the classic "Planet Rock" and another classic that hit even harder produced once again by Arthur Baker & John Robie with an instantly recognizable intro. Parts of the track have been sampled artists such as DJ Khaled "Holla at me", Black Eyed Peas "Weekends", Bomb The Bass "Beat Dis", LL Cool J "Control myself", etc.
There are a few label variations, some of which are pictured below including a copy with centre labels intended for use on a 7″ release and it was also given an updated mix by Brutal Bill in 1998. There is also a version pressed on maroon colour vinyl which I will post once I get a good enough scan.
---
Original Release [TB-831]
Side A
Looking For The Perfect Beat (Vocal) [6:56]
Bonus Beats II [2:00]
Side B
Looking For The Perfect Beat (Instrumental) [6:58]
1998 Reissue [TB-330]
Side A
Looking For The Perfect Beat (Brutal Bill Extended Mix) [8:17]
Looking For The Perfect Beat (Original Version) [4:31]
Side B
Looking For The Perfect Beat (Brutal Hard Tribal Dub) [6:31]
Looking For The Perfect Beat (Brutal Perfect Dub) [8:34]
---
---