Tommy Boy (US) [TB 812] 1981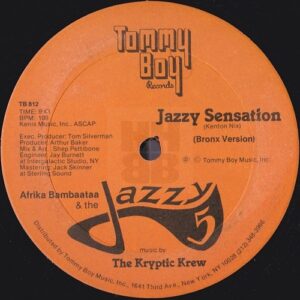 MC Sundance, Master Bee and Charlie Choo began as MC's for the legendary Disco King Mario before leaving with Mario's DJ, DJ Jazzy Jay, to join Afrika Bambaataa and the Zulu Nation. They were later joined by Master Ice and formed part of the Soul Sonic Force, however, due to the large size of the group they split to form the Jazzy 4 with DJ Jazzy Jay while still remaining members of the Zulu Nation. After a while MC Sundance left to pursue a solo career followed closely by Charlie Choo. Master Ice then recruited Mr. Freeze to replace Sundance. Charlie Choo was replaced with the Master Dee who in turn, introduced AJ Les and the Jazzy 5 were born – Master Ice, Mr. Freeze, Master Dee, Master Bee & AJ Les.
This was the groups only release and was also the first time Afrika Bambaataa was listed as an artist. It was produced by Arthur Baker with mixing and engineering by Shep Pettibone & Jay Burnett and was based on Gwen McCrae's 'Funky Sensation'. The Manhattan mix on the B side featured Arthur Baker's wife of the time, Tina B, and was a rap/R&B cover version of the Gwen McCrae original but it was the Bronx version with the Jazzy 5 which was the big hit.
There are a few label variations for this release which are pictured below. The original press, available on either a dark or light orange label, had the Jazzy 5 logo and contained the full 9:43 minute version. There was also a mispress of this which had identical labels but actually only included the Manhattan version plus instrumental on both sides.
These were followed in 1982, although no date on the labels, by an orange label and then the classic blue Tommy Boy label with the breakdancer silhouettes. The blue label was also available in a couple of different tones. According to the label these were remixes of the original although they were actually exactly the same but just edited to a reduced 5:38 minutes.
Finally in 1992 the record was reissued as part of a series of classic reissues but once again only contained the shorter versions.
---
Original Press with Jazzy 5 Logo
Side A
Afrika Bambaataa & The Jazzy 5 – Jazzy Sensation (Bronx Version) [9:43]
Side B
Kryptic Krew featuring Tina B – Jazzy Sensation (Manhattan Version) [9:34]
Kryptic Krew – Jazzy Sensation (Instrumental) [3:53]
Mispress with Jazzy 5 Logo
Side A
Kryptic Krew featuring Tina B – Jazzy Sensation (Manhattan Version) [9:34]
Kryptic Krew – Jazzy Sensation (Instrumental) [3:53]
Side B
Kryptic Krew featuring Tina B – Jazzy Sensation (Manhattan Version) [9:34]
Kryptic Krew – Jazzy Sensation (Instrumental) [3:53]
1982 Reissues
Side A
Afrika Bambaataa & The Jazzy 5 – Jazzy Sensation (Bronx Version) [5:38]
Side B
Kryptic Krew featuring Tina B – Jazzy Sensation (Manhattan Version) [5:45]
Kryptic Krew – Jazzy Sensation (Instrumental) [7:17]
1992 Reissue
Side A
Afrika Bambaataa & The Jazzy 5 – Jazzy Sensation (Bronx Version) [5:42]
Kryptic Krew featuring Tina B – Jazzy Sensation (Manhattan Version) [6:24]
Side B
Kryptic Krew – Jazzy Sensation (Instrumental) [7:33]
---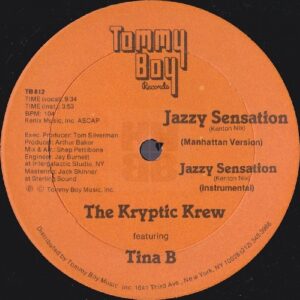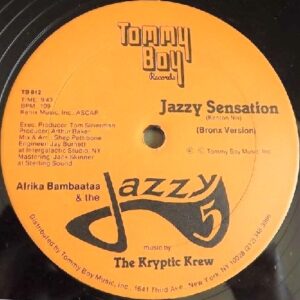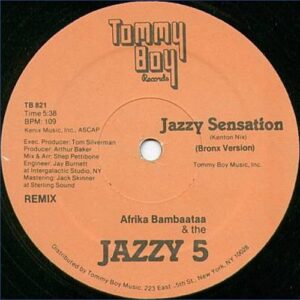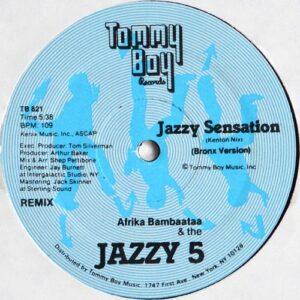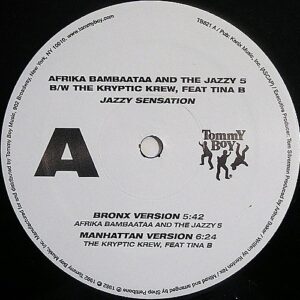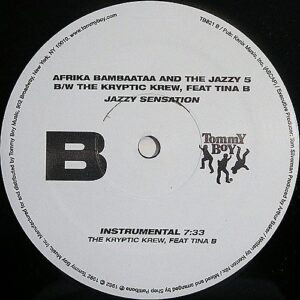 ---