Capitol Records (US) [V-8578] 1984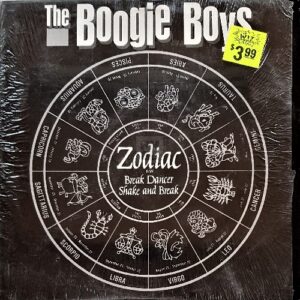 Following the success of 'Rappin' Aint No Thing', the Boogie Boys became hot property on the Manhattan club scene and they eventually landed a deal with Capitol Records. The group's first release on a major label was Zodiac/Breakdancer produced by Ted Currier and led to an album deal.
Unfortunately, following the single, Kool Ski left due to a disagreement with Ted leaving behind just Boogie Knight. Although not actually in the group at the time of the first single, Romeo JD (Joe Malloy) helped provide background vocals for the tracks and was later added by Ted together with Lil Rahiem (Rudy Sheriff).
---
Side A
Break Dancer (Radio Mix) [3:50]
Zodiac [6:56]
Side B
Shake & Break [7:24]
Break Dancer (Club Mix) [3:45]
Break Dancer (Bonus Beats) [2:43]
---
---