Master Five (US) [01000] 1981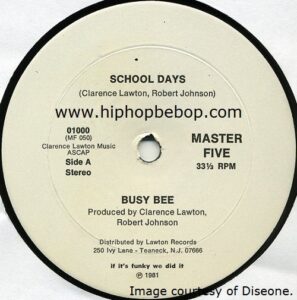 By the time David Parker aka Busy Bee released his debut solo release he was already a veteran of the hip hop scene having worked with many of hip hop's founding fathers such as Afrika Bambaataa, Disco King Mario, Kool Herc, DJ Breakout, the L Brothers, Casanova Gang, etc. He began as Star Ski but had a few variations to his name….Busy Bee Starski, Busy Bee & Chief Rocker Busy Bee. His first appearance on wax was as part of the Marvelous Three on the Brass Records release "Rappin' All Over" in 1980 followed by "The Rappin Spree" as part of the Jazzy Three. The following year he released his first solo record, "School Days", on Master Five Records.
Busy had legendary battles with Kool Moe Dee and also appeared in the cult movie "Wild Style" where he battled Lil Rodney Cee of the Funky 4.
There are a couple of label variations of this release, one an original and the other a bootleg. The bootleg is very easy to spot as the original release has a correct address of 250 Ivy Lane but the bootleg has an incorrect address of 660 Ivy lane.
---
Side A
School Days
Side B
School Groove
---
---