Saturn Records (US) [SAT-2003] 1983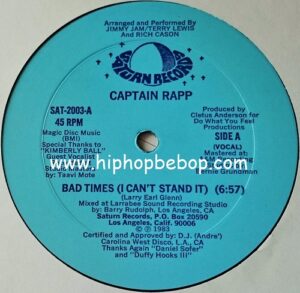 Two years after "The Gigolo Rap" Captain Rapp returns with a West Coast politically conscious response to Grandmaster Flash's "The Message" arranged by the legendary production duo of Jimmy Jam & Terry Lewis and Rich Cason and featuring the vocal talents of Kimberly Ball.
Part 2 on the B side is actually just Kimberly without Captain Rapp and on a later release is credited as such. Her vocals were sampled and sped up for the Rough Club's "Bad Times" in 1988 and lead to a huge club track.
There are a number of label variations and releases which are pictured below, all of which have the same track listing.
---
Side A
Bad Times (I Can't Stand It)
Side B
Bad Times (I Can't Stand It) (Part 2)
Bad Times (I Can't Stand It) (Part 3) (Instrumental)
---
---