NIA Records (US) [NI 1236] 1983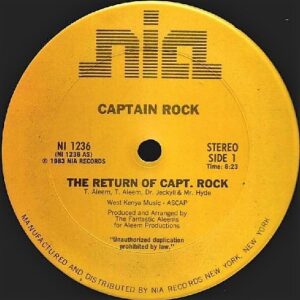 Following his debut release the previous year, Captain Rock returned in 1983 with a whole new sound that would cement his place in hip hop history. Lyrics were once again written by Dr. Jeckyll & Mr. Hyde but The Aleems opted for a more electronic sound this time.
There are a few label variations for this release, all with the same track listing, which are pictured below. The first pressing had the title as "The Return Of Capt. Rock" and a yellow label. Subsequent pressings just had "Return Of Capt. Rock" and came with a green label and a beige label, of which the beige label had the incorrect time of 8:30 for both versions.
The track featured on the classic Street Sounds compilation, Electro 1.
---
Yellow Label
Side A
The Return Of Capt. Rock (Vocal) [8:23]
Side B
The Return Of Capt. Rock (Instrumental) [6:30]
Green Label
Side A
Return Of Capt. Rock (Vocal) [8:23]
Side B
Return Of Capt. Rock (Instrumental) [6:30]
Beige Label
Side A
Return Of Capt. Rock (Vocal) [8:30]
Side B
Return Of Capt. Rock (Instrumental) [8:30]
---
---