Tommy Boy (US) [TB 871] 1985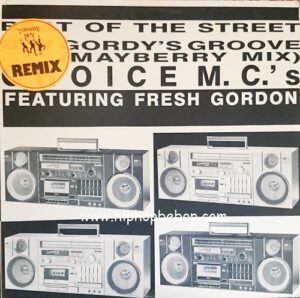 Second release by Choice MC's and the first to feature Gordon Pickett aka Fresh Gordon as a solo artist. Gordon went on to release a couple more records for Tommy Boy before choosing to remain on the production side where he felt his talent really was.
"Gordy's Groove" was a last minute record put together to make the deadline for the B-side track and features a well known sample from "The Andy Griffith Show". The intro was later sampled for DJ Z-Trip's "The Breakfast Club" in 2005.
There are a couple of different versions of this, one of which contains the additional Opie's remix of "Gordy's Groove" by Eric Calvi and Joey Gardner and the other includes a slightly longer version of the Mayberry mix, according to the label, although I'm not sure which one came first. There is also a picture cover plus some very limited promo only colour vinyls on clear, red, yellow and white vinyl.
---
Version 1
Side A
Beat Of The Street (Vocal) [4:25]
Dub Of The Street (Dub Mix) [3:25]
Side B
Gordy's Groove (Mayberry Mix) [4:25]
Version 2
Side A
Beat Of The Street (Vocal) [4:25]
Dub Of The Street (Dub Mix) [3:25]
Side B
Gordy's Groove (Opie's Remix) [4:00]
Gordy's Groove (Mayberry Mix) [4:25]
---
---