Tashamba (US) [KON 3032] 1984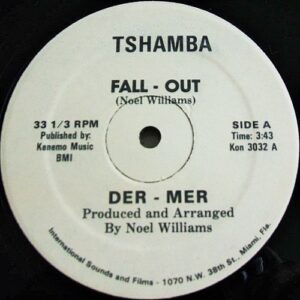 This is the debut release by Der-Mer aka Lawrence P. Dermer, a Miami based producer, songwriter, singer and keyboard (synthesizer) player. It was produced, arranged and written by Noel Williams, best known for co-writing Bob Marley's "Buffalo soldier", and released on Noel's Tashamba Records. Noel also recorded under the alias King Sporty.
There are a few variations which are pictured below. They were all released on Tashamba but the first pressing was spelt Tshamba and was a plain white label with black text. It was pressed again but with full colour labels this time and then a third press included a rap version featuring Eric Griffin who went on to release tracks as Eric G & The Juice Troop and Worse 'Em.
It was remixed again in 1986 as Fall Out (Fresh 86) and then as a B-side to King Sporty's Fall Out (Again) in 1989.
---
First & Second Pressing [KON 3032]
Side A
Fall – Out [3:43]
Side B
Fall – Out (Instrumental) [5:30]
Third Pressing [KON 3032]
Side A
Fall-Out [3:43]
Fall-Out [4:40]
Side B
Fall-Out (Rap) (featuring Eric Griffin) [7:22]
---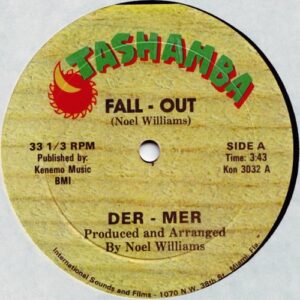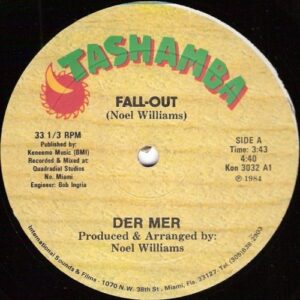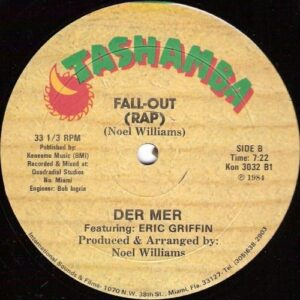 ---