This was the third single from the Cold Crush Brothers and featured Caz and the crew bragging about their rhyme skills. It was mixed and engineered by Charlie Chase and the legendary Elai Tubo.
There are a variety of labels for this release which are pictured below. Following a distribution deal with Profile Records it was released on Tuff City but in an alternative Profile company sleeve and also on Profile itself with the Tuff City train logo on the label. It was then reissued the following year on the subsiduary label, Smokin' Records, first with a limited yellow label and then with the more common green label.
In 1994 it was reissued once again on Tuff City with the classic 1980 disco rap track 'Philosophy Rapppin Spree' by the Super 3 on the flip. This version also had a couple of varying labels. Finally in 1996 it was given the remix treatment by the 45 King which also included his remix of 'We Reserve The Right To Rock' and released on another subsiduary label, Ol' Skool Flava.
In 2011 the UK's Mark B (R.I.P.) & Dialect paid tribute to the Cold Crush Brothers when they released "Fresh, Wild, Fly & Bold (Cold Crush: It's a Must)" with scratches by Jazz T as a limited 7″ on King Of The Beats Records.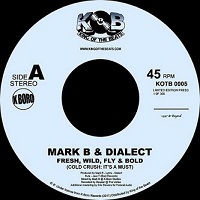 Variant 1
Variant 2
Variant 3
Variant 4
Variant 5
Variant 6
Variant 7