Enjoy Records (US) [ER-6024] 1982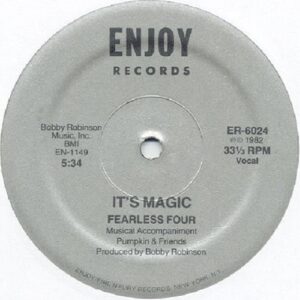 The Fearless Four originally started life as the duo of Devastating Tito and Master O.C. and were called The Houserockers Crew. They were later joined by Great Peso, D.L.B., Mighty Mike C and Krazy Eddie and appeared as the Fearless Four. Mike Ski & Troy B of The Disco Four were also brief members.
The group signed with Bobby Robinson's Enjoy label and this was their debut release as a group and was based around the music of Cat Steven's 1977 release "Was Dog A Doughnut?".
There are a few variations for this release of which most are pictured and all have the same track listing. One early pressing is pictured above and there is also another (Not pictured) which has a large number '1' and '2' on each side. In the early 2000's there were also a couple of reissues. Both looked identical and neither one had Fearless Four printed on the label but the later one had a sticker on the company sleeve and the early one didn't.
---
Side A
It's Magic [5:34]
Side B
It's Magic (Instrumental) [5:42]
---
---