Enjoy Records (US) [ER-6028] 1982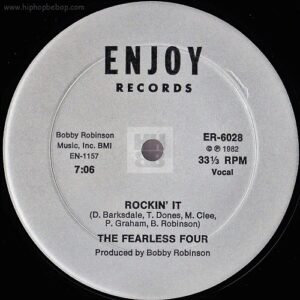 Fearless Four's follow-up to 'It's Magic', this time based on the tune from Kraftwerk's 'Man Machine'.
There are a few label variations for this release. Early pressings with catalogue number ER-6028 include one that credits Pumpkin & Friends and one that doesn't. There is also a later repress with the same track listing and a red label early 90's repress/bootleg with 'It's Magic' on the flip which both have the catalogue number EN-6028 on the label and ER-6028 in the runout etchings. There is also a later 90's reissue in an Enjoy company sleeve with a silver sticker.
---
Original/Repress Release [ER-6028 / EN-6028]
Side A
Rockin' It (Vocal)
Side B
Rockin' It (Instrumental)
Red Label Reissue/Bootleg [EN-6028]
Side A
Rockin' It (Vocal)
Side B
It's Magic (Vocal)
---
---