Tommy Boy (US) [TB 882] 1986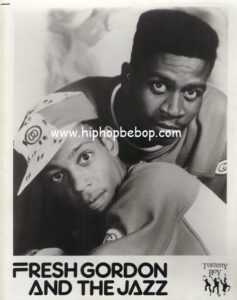 Nice vocoder hip hop from Fresh Gordon featuring assistant producers The Jazz and Mark Morales aka Prince Markie Dee of the Fat Boys. "My Fila", featuring The Jazz, was a response to Run DMC's "My Adidas".
This was to be his penultimate release. He also released "Feelin' James" in 1987 before settling into his successful production career, helping to make hits for the likes of the Fat Boys, MC Chill, Shelton-D, Dana Dane, Whodini, Father MC, etc. His biggest production hit by far was Salt N Pepa's "Push it" for which the location, Gordy's House, was credited but not Fresh Gordon personally.
---
Side A
The Fresh Commandments (Vocal) [5:06]
My Fila (Vocal) [3:10]
Side B
The Dub Commandments (Dub) [5:04]
The Fila Beat (Instrumental) [3:26]
---
---