Sugar Hill Records (US) [SH-463 / SH-32008] 1983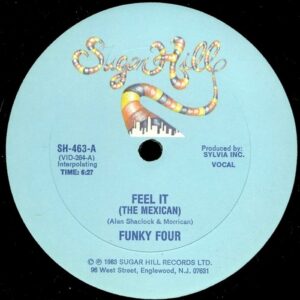 Based around the replayed music of Babe Ruth's "The Mexican", this is the groups fourth single. The intro was used on the debut release by Bomb The Bass in 1987 entitled "Beat Dis".
People won't you come along, get down to the funky song, everybody in the street, get down to the funky beat.
There are a couple of label variations for this release. One is as pictured and the other has a different catalogue number due to a distribution deal Sugarhill did with MCA (Not pictured). It also has "Mfg. & Dist. by MCA Dist. Corp" printed on the label.
---
Side A
Feel It (The Mexican) (Vocal) [6:27]
Side B
Feel It (The Mexican) (Instrumental) [6:27]
---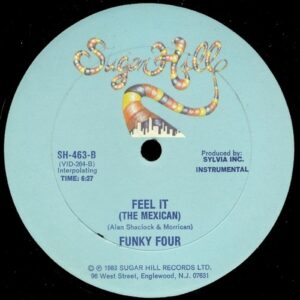 ---