Enjoy Records (US) [6000] 1979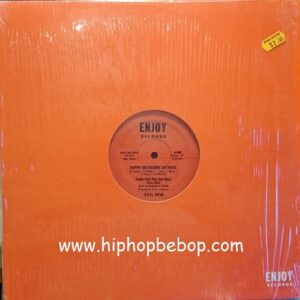 Consisting of K.K. Rockwell, Keith Keith, Li'l Rodney C, (MC) Jazzy Jeff & Sha Rock, this is the debut release from the Funky Four Plus One More. Although the label had been releasing tracks since 1962 this was the first rap record they released and their first record on a 12″ single.
There are a few label variations of this release, all of which are below.
The original was pressed on a red label with the catalogue number 6000 and there were two slightly different versions. One had the RPM's printed in small print and the other in larger print. The sleeve was also plain red with the label name in the bottom right corner. The tracks are printed as Version "A" and Version "B" but they were just vocal and instrumental versions.
The reissue was pressed on a silver label with the catalogue number ER-6000 and came in the new style red company sleeve with a hype sticker on it. The versions were also printed as Vocal and Instrumental.
---
Side A
Rappin And Rocking The House (Version 'A' – Vocal) [16:00]
Side B
Rappin And Rocking The House (Version 'B' – Instrumental) [14:00]
---
---