Enjoy Records (US) [ER-6011] 1980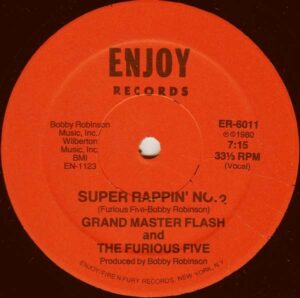 This is the second release from Flash and the group and is just a shorter re-vocalled version of Superappin' with slightly cleaner and more polished music.
The original pressing had a red label but there are also 3 silver label reissues with the same catalogue number but different text layouts, one of which also has the wrong track time of 4:54 for the B side. Apart from that the track listing is the same for all issues.
---
Side A
Super Rappin' No.2 (Vocal) [7:15]
Side B
Super Rappin' Theme (Instrumental) [5:04]
---
---