Enjoy Records (US) [6001] 1979
Grandmaster Flash & The Furious Five were formed in the Bronx. Flash honed his skills alongside the L Brothers before recruiting Cowboy, Melle Mel & Kidd Creole as emcee's. They were originally known as the Three MC's but were joined shortly after by Rahiem, formerly of the Funky Four, and Mr. Ness aka Scorpio at which point the Furious Five were born. Their previous release under the name Younger Generation was actually pressed without their knowledge making this their official debut and the second rap release on Bobby Robinson's Enjoy label. A lot of the lyrics were recycled from "We Rap More Mellow" and the last verse in particular was completely recycled for the groups future mega hit and conscious rap classic, "The Message".
A child is born with no state of mind,
Blind to the ways of mankind.
God is smilin' on you, but he's frownin' too
Because only God knows what you'll go through…….
The track was issued the following year as "Super Rappin No.2" and was a far shorter version with the last track completely missing along with other lyrics. Musically it was more polished and had a nice crisp sound but it was basically the same track.
There are a few label variations which are shown below. The first pressings came in a plain red sleeve with the Enjoy logo in the bottom right corner and had red labels. I'm not sure which came first but of the two first red label issues, one release didn't include B. Robinson in the songwriting credits. There is a later unofficial pressing with a red label which includes B. Robinson but it had a new style Enjoy sleeve.
There are also a couple of silver label reissues with different catalogue numbers, 6001 and EN-6001, as pictured, one of which includes Classic Series printed on the label and the other which is misspelt Supperappin. They came with the new style Enjoy sleeve although some have an actual silver sticker to the right and others have it printed on the sleeve.
All issues have exactly the same track listing.
Must give credit to my man Werner for the info about the last verse. Read the full write up here.
Grandmaster Flash on Wikipedia.
---
Side A
Superappin' [12:03]
Side B
Superappin' Theme [12:01]
---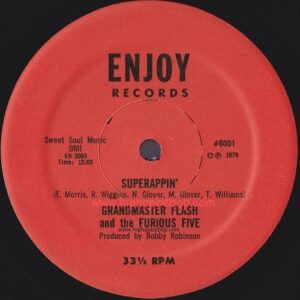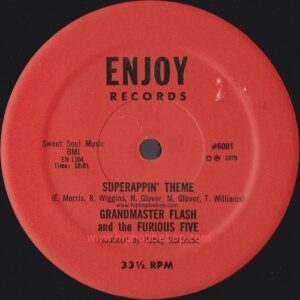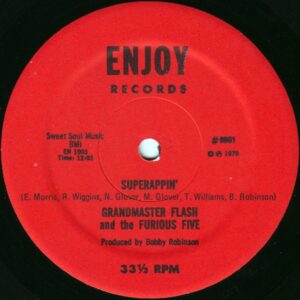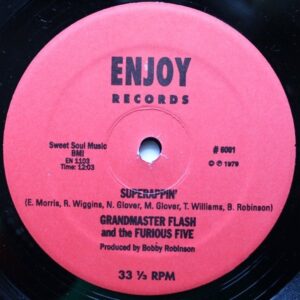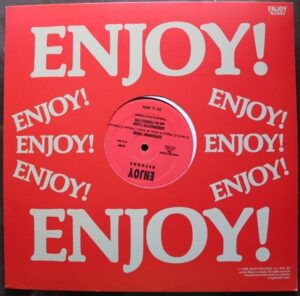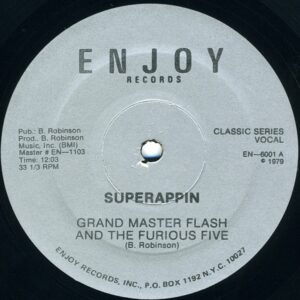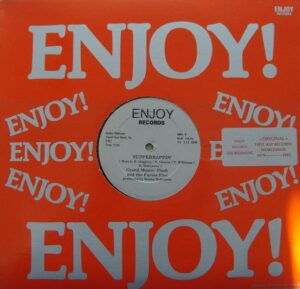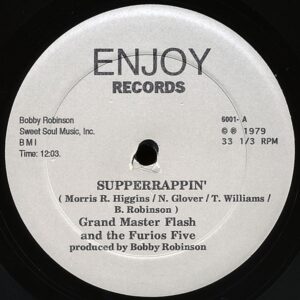 ---