Salsoul Records (US) [SG 315] 1979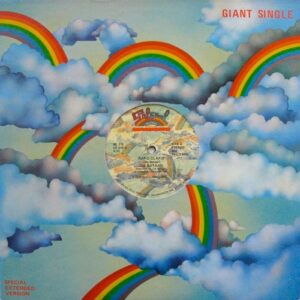 Bataan Nitollano aka Joe Bataan grew up in East Harlem where he became the leader of a local street gang. After serving time for theft he focused his attention on music. He signed to the legendary Latin music label Fania Records where he went on to release several albums. After disagreements over money he eventually left the label and started his own Ghetto Records label.
In 1973 he co-founded the disco label Salsoul Records with the Cayre brothers, Joseph, Kenneth and Stanley, although he later sold his share. This was probably his biggest hit for the label and was his only venture into disco rap. It was produced by Joe Bataan and an uncredited young Arthur Baker.
There are a couple of track list variations for this release. One version features the Spanish version, El Rap-O Clap-O, on the B side while the other includes the instrumental. While they all feature the famous Salsoul Records label design, the promo version with El Rap-O Clap-O was a plain white label with black text.
---
Version 1
Side A
Rap-O Clap-O [4:22]
Side B
El Rap-O Clap-O [6:00]
Version 2
Side A
Rap-O Clap-O [4:22]
Side B
Rap-O Clap-O (Instrument-O) [4:24]
---
---