Next Plateau Records (US) [NP 50025] 1984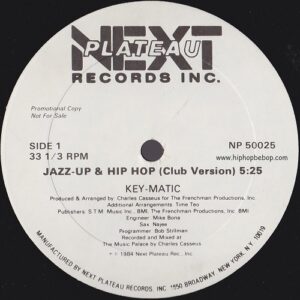 The follow up to the classic "Breakin In Space" and another great track in much the same style as their previous release. Once again vocals are from Charles Casseus and Najee makes another appearance on the saxophone, however, there's no mention of Wizard K-Jee.
There are a couple of label variations for this release. There is an odd version that still has the name Key-Matic printed below the title but also features the name Solo above the centre hole. I'm just guessing but I assume this is a printing error as I can't find a link with Key-Matic. The promo release just has Key-Matic so maybe this is a second pressing.
All versions also include an extra instrumental track on side A which isn't printed on the label.
---
Side A
Jazz-Up And Hip Hop (Club Version) [5:25]
Untitled Track
Side B
Jazz-Up And Hip Hop (Radio Version) [5:25]
Juicy Jazz Beats [2:42]
---
---