Electrobeat Records (US) [EB001] 1984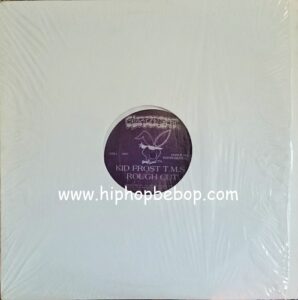 This is the debut release by Chicano rap legend Arturo Molina Jr. aka Kid Frost and features DJ Yella of World Class Wreckin' Crew & N.W.A. fame on the turntables plus production from The Alien Wizard aka David Storrs. It was the first release on Electrobeat Records, a label started by Storrs & DJ Pepo. The artist was actually printed as 'Kid Frost T.M.S.' (Techtonic Music Services), referring to the publishing company. Many thanks to Testpress Lee for solving this one.
There are a few label variations of this release, a few of which are shown below. The first pressing was on a purple label and was followed by a blue label, both of which had a large press ring. The track was repressed in 2006 on a white label and also a blue label again but this time with a small press ring.
---
Side A
Rough Cut (Dance Mix) [8:01]
Rough Cut (Instrumental) [8:01]
Side B
Rough Cut (Radio Edit) [3:47]
---
---