Electrobeat Records (US) [EB005] 1985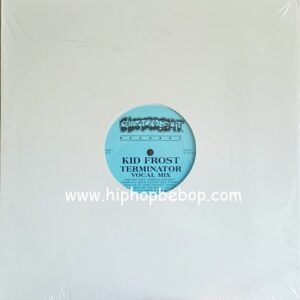 What can I say about this track other than, possibly the best hip hop/electro record ever!
This was the last release for the short-lived Electrobeat label and they went out with a bang. Once again the top-notch production was handled by David Storrs. After this release Kid Frost left rap for a while and became a breakdancer for Uncle Jamm's Army before returning in 1990 with his biggest hit, "La Raza".
There are two label variations for this release, the first pressing being on a yellow label followed by the blue label second pressing.
---
Side A
Terminator (Vocal Mix) [6:05]
Side B
Terminator (Instrumental) [4:17]
---
---