Golden Flamingo Records (US) [10000 / 11000] 1979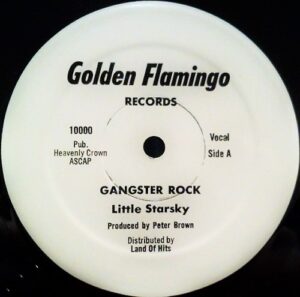 Little Starsky aka Lovebug Starski, real name Kevin Smith, grew up in the Bronx and became the in-house DJ at the Disco Fever and also deejayed at the Harlem World.
This classic Peter Brown production with the instrumental by the Land Of Hits Orchestra on the flip was his debut release as a rapper.
There are a few label variations for this release. I'm not sure which versions came first so I'll base it on the catalogue numbers. The first pressing, I guess, is the one with catalogue number 10000. It contains the same vocal version by Little Starsky on both sides but is mislabeled and credited to the Land Of Hits Orchestra. The second pressing with catalogue number 11000 contains the same instrumental version on both sides but again, is mislabeled but this time credited to Little Starsky. The third press includes both catalogue numbers and is correctly labeled and credited with side 10000 being the vocal version and side 11000 being the instrumental.
The record was also bootlegged with the same vocal and instrumental versions in 2015.
---
[Cat# 10000] Version 1 (Vocal version)
Side A
Land Of Hits Orchestra – Gangster Rock (Vocal)
Side B
Land Of Hits Orchestra – Gangster Rock (Vocal)
[Cat# 11000] Version 2 (Instrumental version)
Side A
Little Starsky – Gangster Rock (Instrumental)
Side B
Little Starsky – Gangster Rock (Instrumental)
[Cat# 10000 & 11000]
Side A
Little Starsky – Gangster Rock (Vocal)
Side B
Land Of Hits Orchestra – Gangster Rock (Instrumental)
---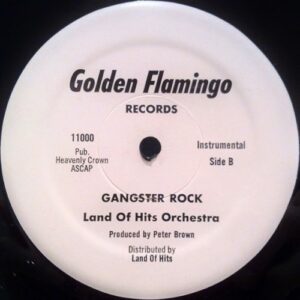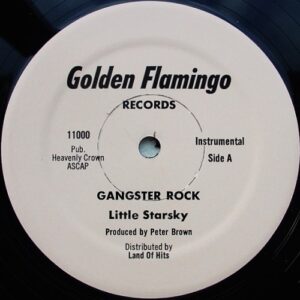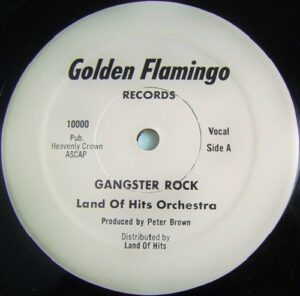 ---