Fever Records (US) [TFR-003] 1983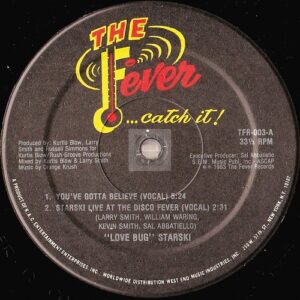 This was Lovebug Starski aka Kevin Smith's first release for Sal Abbatiello's Fever Records which was an extension of his nightclub called The Fever in NYC. The track was written by William 'Billy Bill' Waring with adlibs by Starski and produced by Kurtis Blow, Larry Smith and Russell Simmons with music by Orange Krush (Larry Smith, Davy DMX & Trevor Gale).
There are a few label variations for this release. The first pressing doesn't have a release date on the label but second pressings have it printed under the publishing details on the right side. There is also a later reissue (No decent label scan yet) which has a different catalogue number and vocal and instrumental versions on each side.
---
Original Release [TFR-003] 1983
Side A
You've Gotta Believe (Vocal) [5:24]
Starski Live At The Disco Fever (Vocal) [2:31]
Side B
You've Gotta Believe (Instrumental) [5:24]
Starski Live At The Disco Fever (Instrumental) [2:31]
Reissue [FEV 2001]
Side A
You've Gotta Believe (Vocal)
You've Gotta Believe (Instrumental)
Side B
Starski Live At The Disco Fever (Vocal)
Starski Live At The Disco Fever (Instrumental)
---
---