C.C.L. Records Inc. (US) [C.C.L. 102] 1984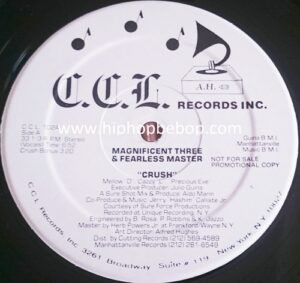 This was the second release for CCL and featured the production talents of Hashim and Aldo Marin. I'm not sure who Fearless Master was but the Magnificent Three were Mellow D, Cazzy L & Precious Eve and this was their only track.
There are a couple of label variations for this release. First came the yellow label release followed closely by the white label without the promo print. Both have the same track listing.
---
Side A
Crush (Vocal) [6:52]
Crush (Bonus) [3:20]
Side B
Crush (Instrumental) [7:05]
Crush (Sound Effects) [2:05]
---
---