Sugarscoop Records (US) [SS-430] 1984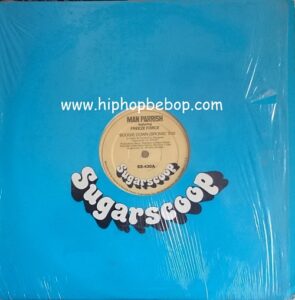 Another classic track from the production duo of Parrish & Rodriguez, this time featuring the vocal talents of John Carter aka MC Cool Johnski. Although not exactly an answer version, it was made with a response to Afrika Bambaataa's "Looking For The Perfect Beat" and has one of the most memorable basslines of all the old electro tracks.
Basically there were two teams of guys doing music: Arthur Baker and John Robie, and myself and Raul Rodriguez. We were kind of side-by-side teams–often in the same studio–punching out a bunch of records. In fact, it got a little bit competitive–their record "Looking For The Perfect Beat" was kind of a dis on us, because if you notice, there's all these dog barks (Similar to the ones on "Hip Hop, Be Bop"). They were saying, "They're looking for a perfect beat (Meaning us), but you're not gonna find it because we have it! [Man Parrish] (Full interview here.)
The Freeze Force were Man Parrish, Raul Rodriguez, MC Cool Johnski & DJ Kool.
The bassline was replayed for the Red Venom & Man Parrish track "B.Boy Supreme" from 2012 which featured on Street Sounds Nu Electro Vol.4 and bought the new to the old and vice versa.
There was only one US release but a notable, unofficial marbled vinyl pressing on the German label, YXA.
For further info please check out Man Parrish's website at www.manparrish.com and for his latest releases you can check his Soundcloud page.
---
Side A
Boogie Down (Bronx) [5:19]
Side B
Boogie Down (Dub) [5:47]
---
---