Sugarscoop Records (US) [SS-433] 1985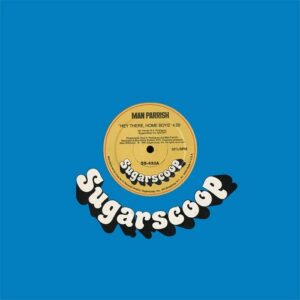 Although this is by far the last track from Man Parrish it's the last hip hop/electro track of the period covered. It features a vocoder intro then the vocal talents of the same two receptionists, Theresa and Tracey, that appeared on the Two Sisters releases and worked at Sugarscoop. Manny & Raul wrote the lyrics and then employed them to sing on the track.
This was made big in the UK courtesy of DJ Mike Allen.
Following this release Man Parrish had an unexpected European hit in 1986 with Man 2 Man on the track "Male stripper" and also went on to manage the Village People for 6 years. He produced various types of music including tracks for short-lived hip hop group The Freshmen, Angie Bowie (David Bowie's ex wife), singer-songwriter Cherry Vanilla, Visage, Marilyn, etc. There was even a remix of Michael Jackson's "Speed Demon" which Quincy Jones loved but Michael didn't so it remains shelved.
---
Side A
Hey There, Homeboys [4:20]
Side B
Home Boys Dub [6:00]
---
---