Importe/12 records (US) [MP-321] 1982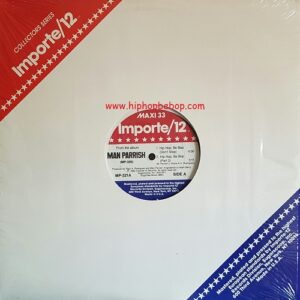 After headlining Andy Warhol's Studio 54 club and having a then unknown Madonna as his warm up act, legendary producer Manuel "Manny" Parrish finally released one of the all-time classic electro releases "Hip Hop Be Bop", produced by himself and Raul Rodriguez (R.I.P.). He actually debuted before this with some production for his good friend Klaus Nomi (R.I.P.) but it was this electro instrumental track that really hit the spot for kids growing up at that time.
The record has a few label variations. It was originally released on Importe/12 in 1983, although the labels all say 1982 indicating the year it was recorded, however, I've added it to 1982 according to the label date. An extended remix was made and put out originally on Disconet, a Sugarscoop DJ subsciption label, and officially once again on Importe/12 with "Heatstroke" on the flip but in an attempt to spot the bootlegs that were being produced they made the switch to Sugarscoop, the parent company.
It was re-released once again in 1984, again on Importe/12, and seemed to be a best of the first two pressings but this time with another classic, "(Boogie Down) Bronx" on the flip.
There have been a number of remixes of this track too, such as the electro, techno mixes of "Hip Hop Re Bop" and also the unofficial issues from Unidisc plus the mid 2000's re-pressings on the Importe/12 label which can be identified by the single large press ring instead of two on the original.
For further info please check out Man Parrish's website at www.manparrish.com and for his latest releases you can check his Soundcloud page.
---
Original Release [MP-321]
Side A
Hip Hop, Be Bop (Don't Stop) [4:00]
Hip Hop, Be Bop (Don't Stop) (Part 2) [3:11]
Side B
Hip Hop, Be Bop (Don't Stop) [5:36]
Second Importe/12 Release & Sugarscoop [MP-324]
Side A
Hip Hop, Be Bop (Don't Stop) (Extended Remix) [7:36]
Side B
Heatstroke (Club Mix) [7:45]
1984 Re-release [MP-324]
Side A
Hip Hop, Be Bop (Don't Stop) (Extended Remix) [7:36]
Hip Hop, Be Bop (Don't Stop) (Long Version) [5:36]
Hip Hop, Be Bop (Don't Stop) (Part 2) [3:06]
Side B
Boogie Down Bronx (Vocal) [5:36]
Boogie Down Bronx (Dub) [5:35]
Unidisc Releases [SPEC-1462]
Side A
Hip Hop, Be Bop (Don't Stop) (Remix) [7:36]
Hip Hop, Be Bop (Don't Stop) [6:02]
Side B
Heatstroke [7:45]
1996 Hot Classics Reissue [HCL 2294]
Side A
Hip Hop Bee Bop (Don't Stop) [7:35]
Side B
Boogie Down Bronx [5:36]
1997 Endorfun Records Release [FUN 001]
Side A
Hip Hop Rebop (Trip Mix 128bpm) [6:29]
Hip Hop Rebop (Trip Dub 126bpm) [6:29]
Side B
Hip Hop Rebop (Original Classic 115bpm) [5:32]
---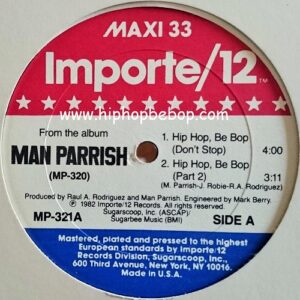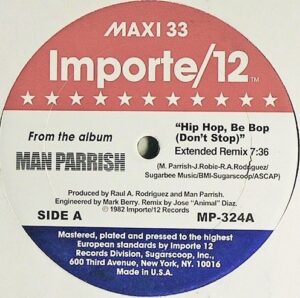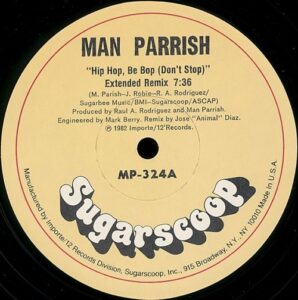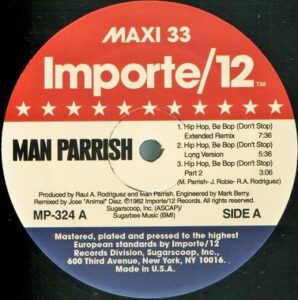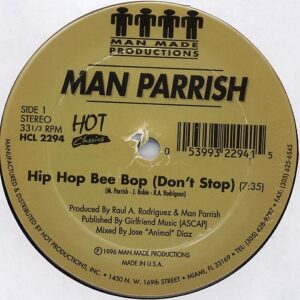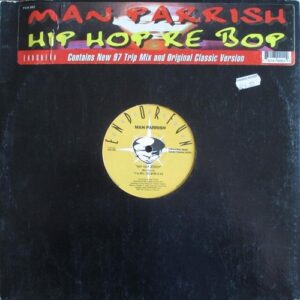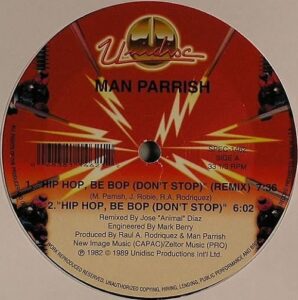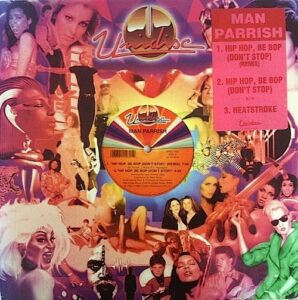 ---