Sleeping Bag Records (US) [SLX-00014] 1985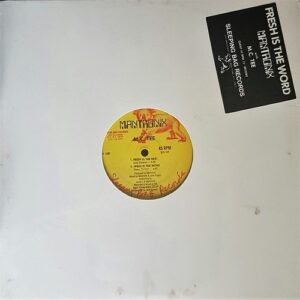 Jamaican born Kurtis Khaleel (Kurtis Mantronik) began as an in-store DJ for Downtown Records in Manhattan. It was there that he met Haitian born Toure Embden (MC Tee). The two became good friends and decided to produce a demo which led to them signing with Sleeping Bag Records and releasing this, their debut release, which included scratching by DJ Louie Lou.
There are a few label variations for this release. The original Sleeping Bag label had a different catalogue number on each side. It was unofficially reissued in the 2000's, however, it's instantly recognizable as the label was printed using a different font and it has the same catalogue number on each side. It was also officially reissued in 1999 on Warlock Records as part of their Warlock Classics series.
---
Original Sleeping Bag Release SLX-0014 / SLX-14 (1985)
Side A
Fresh Is The Word [5:59]
Side B
Fresh Is The Beat (Dub Version) [4:58]
Fresh Is The Word (Radio Version) [3:42]
Warlock Reissue WR-810 (1999)
Side A
Fresh Is The Word (12″ Club Mix) [5:31]
Side B
Fresh Is The Word (Instrumental) [4:58]
Fresh Is The Word (Vocal Remix) [6:03]
Unofficial Sleeping Bag Release SLX-14 (2000's)
Side A
Fresh Is The Word [5:59]
Side B
Fresh Is The Beat (Dub Version) [4:58]
Fresh Is The Word (Radio Version) [3:42]
---
---