Brass Records (US) [BRDS 2508] 1980
Debut release from the Marvelous Three aka Chief Rock Busy Bee, DJ Small and Kool DJ A.J. It seems that the Younger Generation was actually just an alias for Terry Lewis or possibly the group that played the music.
The record was bootlegged/unofficially reissued in the 2000s but is easily recognisable as pictured below. The text to the right of the centre hole is aligned to the right on the original but to the left on the reissue. Also the artist name at the top is a different font.
The track was also officially reissued by Kay-Dee Records/Get On Down in 2012 as a 7″. It was mixed by Kenny Dope and retitled "Rappin Out Of This World" and was issued on blue vinyl and black vinyl.
---
Brass Release [BRDS 2508]
Side A
Rappin All Over [8:57]
Side B
Rappin All Over [8:35]
Kay-Dee 7″ Release [KD-028]
Side A
Rappin Out Of This World Pt.1 [8:57]
Side B
Rappin Out Of This World Pt.2 [8:35]
---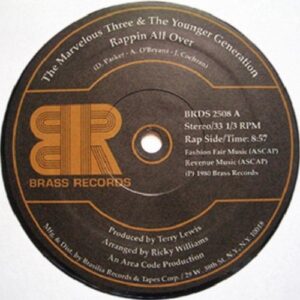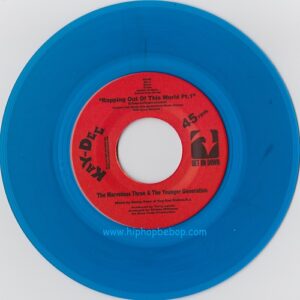 ---