Magic Records (US) [CX347ABS] 1980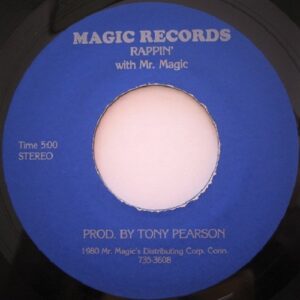 Mr. Magic aka Tony Pearson from Connecticut (Not to be confused with Mr. Magic aka John Rivas of WBLS Rap Attack fame) was a record store owner and promoter in the 1970's. It was after hearing Kurtis Blow's 'Christmas Rap' that he decided to record his own track and came up with 'Rappin With Mr. Magic' sampling Vaughan Mason's 'Bounce, Rock, Skate, Roll'.
500 copies were originally pressed on 7″, pictured above, with the same track on each side and a generic pressing plant catalogue number. They were very popular and quickly sold out so Magic decided to repress it. However, following the advice of a promoter he re-recorded it using a live band and pressed it on a 12″ so as to avoid any legal confrontation with Vaughan Mason or Brunswick Records.
There are a few variations of the 12″ release, all on Magic records, which are easy to spot. The initial first 12″ press has the catalogue number 376 and is distributed by Roger Brousso. There are then 2 further pressings each with the catalogue number 904 and distributed by Heavenly Star Records with production by Peter Brown. All the 12″ releases have the same track listing.
---
Original 7″ Release [CX347ABS]
Side A
Rappin' With Mr. Magic [5:00]
Side B
Rappin' With Mr. Magic [5:00]
12″ Releases [376] & [904]
Side A
Rappin' With Mr. Magic [9:00]
Side B
Rappin' With Mr. Magic (Part 2) [4:30]
---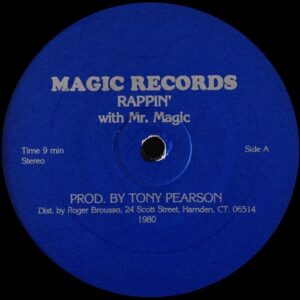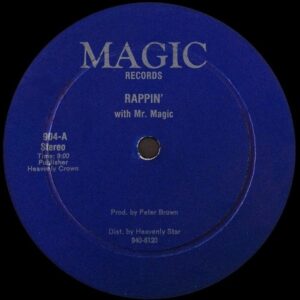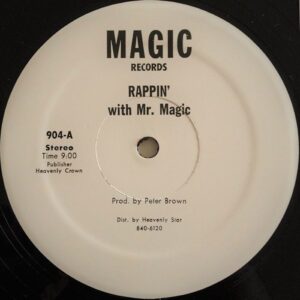 ---