Streetwise (US) [SWRL-2205] 1982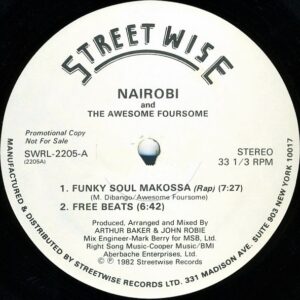 This is the first and only release by Nairobi and is a cover version of the classic Manu Dibango track from 1972. It was produced by Arthur Baker and John Robie and features the Awesome Foursome on the rap mix.
There are a couple of label variations for this release which are pictured below. The promo release had black text on a white label and the general release was on a silver label, one with a black Streetwise logo and one with a red logo.
In 1990 on the Warlock Classics series of reissues the A side also appeared as a B side to T La Rock's "It's Yours" and then in 1993 there was a Canadian reissue as a double A side with Awesome Foursome's "Funky Breakdown" which was misspelt Awsome Foursome.
---
Original Release – Streetwise 1982 [SWRL-2205]
Side A
Nairobi & The Awesome Foursome – Funky Soul Makossa (Rap) [7:27]
Nairobi & The Awesome Foursome – Free Beats [6:42]
Side B
Nairobi – Funky Soul Makossa [8:15]
Nairobi – Makossa Jam (Instrumental) [6:04]
Warlock Reissue 1990 [WAR-805]
Side A
T La Rock & Jazzy Jay – It's Yours (Vocal)
T La Rock & Jazzy Jay – It's Yours (Instrumental)
Side B
Nairobi & The Awesome Foursome – Funky Soul Makossa (Rap)
Nairobi & The Awesome Foursome – Funky Soul Makossa (Free Beats)
Canadian Reissue – Unidisc 1993 [SPEC-1618]
Side A
Awsome Foursome – Funky Breakdown [8:19]
Side B
Nairobi & The Awsome Foursome – Funky Soul Makossa [7:25]
Nairobi & The Awsome Foursome – Free Beats [6:45]
---
---