Mayhew Records (US) [M-553] 1983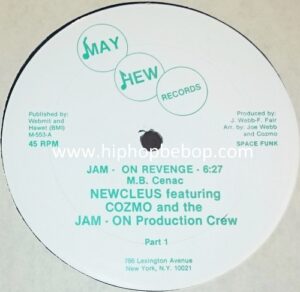 The group Newcleus originally evolved as an extension of a DJ Crew called Jam-On Productions and consisted of Cozmo and his wife Lady E plus Nique D and her husband Chilly B (R.I.P.). They were originally named Positive Messenger but changed their name to Newcleus.
Their first recording was this track, "Jam-On Revenge" released in 1983 on Mayhew Records but it was picked up later that same year and re-released on Sunnyview Records where it was retitled "Jam On Revenge (The Wikki-Wikki Song)" by simply Newcleus and featured slightly different mixes by Jonathan Fearing. The Mayhew release had the artist printed as Newcleus featuring Cozmo and the Jam-On Production Crew but the Sunnyview release had it as simply Newcleus.
Obviously there's the original label version but there followed a couple of Sunnyview label variations aswell. One has the group name directly above the title but under the centre hole, the other has the name above the centre hole and the title below. Both are pictured below.
---
Mayhew Release [M-553]
Side A
Jam On Revenge (Part 1) [6:27]
Side B
Jam On Revenge (Part 2) [6:12]
Sunnyview Release [SUN 408]
Side A
Jam On Revenge (The Wikki-Wikki Song) [7:49]
Side B
Jam On Revenge (The Wikki-Wikki Rap) [5:13]
Jam On Revenge (Instrumental) [4:41]
---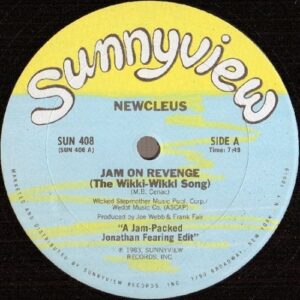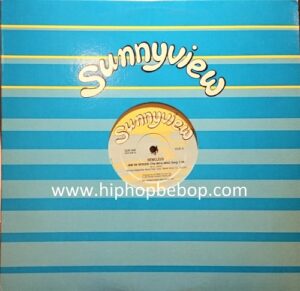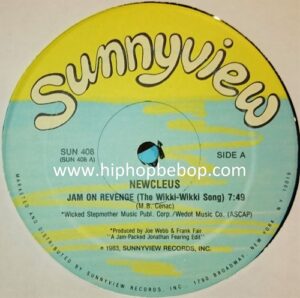 ---