Jive (UK) [JIVE T 43] 1983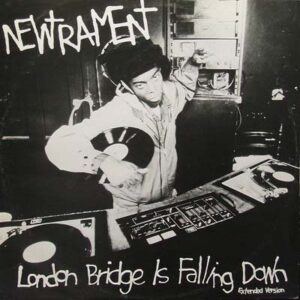 Newtrament aka Bertram Johnson was the founder of Rock Box in the UK, a precursor to the modern day raves. He is often credited for releasing the first UK hip hop record but is actually the second, after Dizzy Heights, however, it could probably be credited as being the very first UK electro record.
The track itself was mixed by Nigel Green of the Willesden Dodgers. There are 2 different US pressings both with the same versions but one has the sides reversed.
---
UK Release [JIVE T 43]
Side A
London Bridge Is Falling Down (Extended Version) [8:31]
London Bridge Is Falling Down (Dub Mix) [8:08]
Side B
London Bridge Is Falling Down (Special Vocoder Mix) [12:30]
US Release – Alternative Track Arrangement
Side A
London Bridge Is Falling Down (Special Vocoder Mix) [12:30]
Side B
London Bridge Is Falling Down (Extended Version) [8:31]
London Bridge Is Falling Down (Dub Mix) [8:08]
---
---