Tryon Park Records (US) [TPR 1002] 1980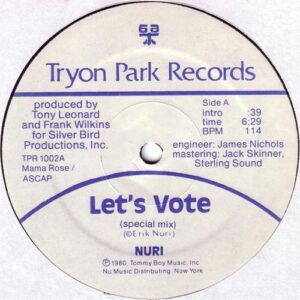 Disco rap track by Erik Nuri trying to promote voting. The track was originally released in 1980 but was reissued on Ballot Box Records in 1982 as an official voter registration song.
Erik Nuri went on to write and produced tracks for artists such as Krystol, New Kids On The Block, Surface, Stanley Clarke, etc.
---
Nuri – Tryon Park Records [TPR 1002] 1980
Side A
Let's Vote (Special Mix) [7:38]
Side B
Let's Vote (Instrumental) [3:39]
Let's Vote (Vocal) [6:20]
Erik Nuri – Ballot Box Records [BBR 82-01] 1982
Side A
Let's Vote (Dance Mix) [7:08]
Side B
Let's Vote (Instrumental) [3:39]
Let's Vote (Original Vocal) [6:20]
---
---