Aerial Records (US) [1983-1984] 1982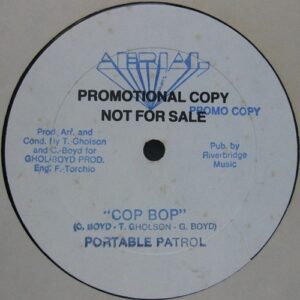 Disco rap track produced by Terry Gholson and Craig Boyd featuring The Disco Cop and one of only two releases on the short-lived Aerial records label. There are a couple of label variations as pictured, both with the same track listing.
The Disco Cop aka Craig Boyd was a traffic cop stationed at a busy intersection in Hampton Bays, Long Island and is famous for directing traffic while dancing. Read the full story at 27East.
Following his vinyl debut he went on to become a music teacher at Riverhead Middle School before becoming a music professor at Suffolk County Community College.
---
Side A
Cop Bop (Disco Mix) [5:34]
Side B
Cop Bop (Instrumental Mix) [4:58]
Cop Bop (Radio Mix) [3:41]
---
---