Music Specialists, Inc. (US) [MSI-104] 1983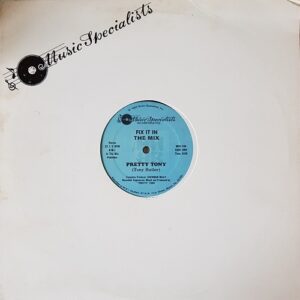 Tony Butler aka Pretty Tony began his music career as a local DJ in the crew Party Down DJ's in Miami and went on to become the house DJ at Superstars Skating Rink. He had an ear for music and could always pick the future biggest hits from the record pools.
Tony moved into production and built his own studio in Liberty City. He released music by various artists on multiple labels and whenever a track was a big hit it was sent to Sunnyview for wider distribution, an idea also performed by Amos Larkins II. Just like Amos is credited for the invention of 'Miami Bass', so Pretty Tony Butler is credited for the invention of 'Freestyle'. At one point he was having records pressed at every pressing plant in Miami so decided to buy his own pressing plant to keep up with demand which he ran 24/7.
Tony debuted with tracks by Free Style and Sherman (Nealy), who was a close associate and executive producer on most tracks released on Music Specialists, Inc. before deciding to release his own solo project in 1983 called 'Fix It In The Mix'. The track was awash with sound effects such as lasers and smashing glass.
There are various labels for this release. The original pressing has a light blue label and was released in a Music Specialists, Inc. company sleeve. The address on the label was the MSI Studios address in Miami. All other pressings were manufactured and distributed by Sunnyview Records and feature Sunnyview's New York address.
The light blue label was followed by the classic silver label and was released in a Sunnyview company sleeve. There are also both silver and white label promo's for this release.
The track was reissued in 1986 on Music Specialists, Inc. but with the company's multi colour label, although the A-side was mistitled 'Fix In The Mix' and then in 1991 it was reissued once again on Pandisc.
---
Side A
Fix It In The Mix [6:00]
Side B
Fix It In The Mix (Instrumental) [6:00]
---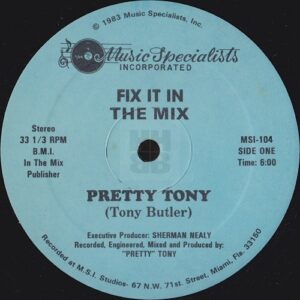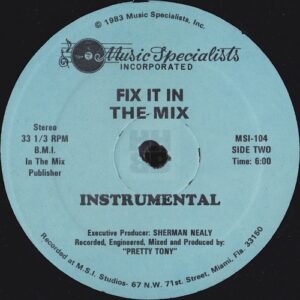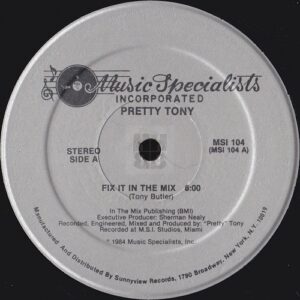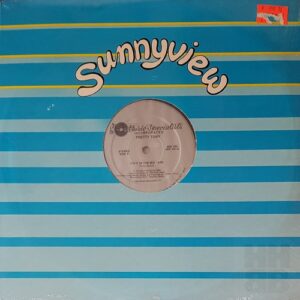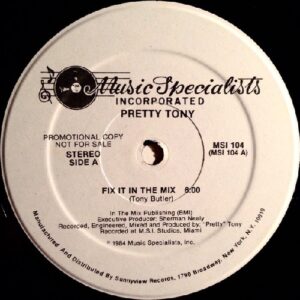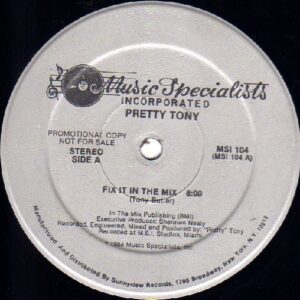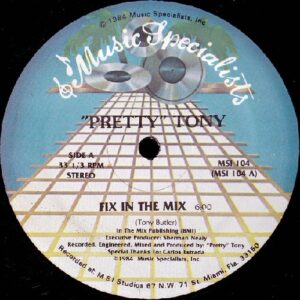 ---