Reality Records (US) [IR1374] 1983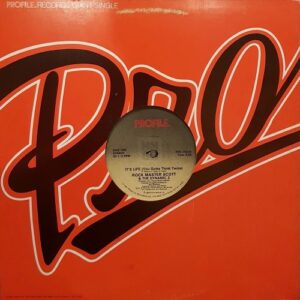 Hailing from the Bronx, NY, The Dynamic Three began life as Charlie D & The Crew. The trio of Charlie Prince (Charles Pettiford), Slick Rick (Richard Fowler – Not to be confused with Slick Rick of Def Jam fame) and Buster were originally put together by Master Blaster Greg aka MBG (Greg Wigfall) for a local show in Connecticut. Buster was actually a member of another group at the time so on their return to New York he left the trio and MBG decided to include himself and rename the group The Devilish Three.
The group entered a battle at a club called Your Spot, owned by Jerry Bloodrock. They were without a DJ at the time so recruited local DJ, Kool Dee. The Devilish Three won the battle and at the same time met a DJ from one of the other groups called Master Scott (Mark Scott) who went on to become their permanent DJ.
After performing at many shows, the buzz got back to Jerry Bloodrock and he signed the group to record for him, becoming both their producer and promoter. It was Jerry's idea to change Master Scott's name to Rock Master Scott and typical of groups at the time they went with the DJ lead and renamed themselves Rock Master Scott & The Dynamic Three.
'It's Life' was the debut recording with music by, among others, DJ Whiz Kid & Jay Burnett. The track was hugely successful and was picked up by Profile Records and reissued the same year with wider distribution. However, the Profile release was a shorter version with one less verse than the Reality issue.
---
Reality Release [IR1374] 1983
Side A
It's Life (You Gotta Think Twice) [7:10]
Side B
It's Life (You Gotta Think Twice) (Instrumental) [6:46]
Profile Release [PRO-7023] 1983
Side A
It's Life (You Gotta Think Twice) [5:50]
Side B
It's Life (You Gotta Think Twice) (Instrumental) [6:50]
It's Life (You Gotta Think Twice) (Bonus Version) [4:45]
---
---