Pop Art Records (US) [PA-1406] 1984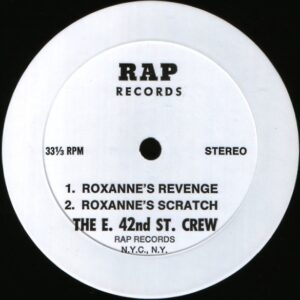 Roxanne Shante aka Lolita Shante Gooden was only 14 years old when she first appeared on wax. Hailing from Queens, New York, she became a member of the legendary Juice Crew and went on to release a couple of albums for Cold Chillin' Records.
Her career began with this diss at UT.F.O. in response to their track 'Roxanne, Roxanne'. The original version was a cassette recording of Shante freestyling over the UTFO beat on Mr. Magic's Rap Attack show. You can actually hear Mr. Magic start talking as the records fades out. Thus began the Roxanne wars and a legend was born.
There are a few label and track variations for this release. The first version was released as a 2 track single using the same recording from Mr. Magic's Rap Attack Show, hence the poor sound quality. Rumour has it that there are only 100 copies pressed of this version. Following this release U.T.F.O. & Select Records issued a cease-and-desist order over the unauthorised use of the U.T.F.O. sample so Marley Marl remixed it and the label issued it again as a 4 track single including the remix and the original taped version. With further pressure the label pressed another version which just featured Marley's remix, although the labels still had the same track listing printed on them, however, it played the same on both sides.
There is also a single sided release by the E. 42nd St. Crew on Rap Records (Pictured above) with the original taped version. Although this could pre-date the Pop Art release it was more than likely released after the final issue as a way of keeping the original taped version on the market without the link to Marley Marl & Mr. Magic. The only clue was the name which corresponded with the address of WBLS radio station at the time.
There are variety of labels with subtle differences which are pictured below. Some labels are black and white and some are colour. There is also a colour label of the 2 track release but although the versions are printed on the label the same it actually includes the remix version. Also some have no writer credits, some have L. Gooden and some have L. Gooden, UTFO & Full Force.
---
E. 42nd St. Crew [Rap Records]
Side A
Roxanne's Revenge
Roxanne's Scratch
Pop Art Releases
First version
Side A
Roxanne's Revenge (Street Version) [4:20]
Side B
Roxanne's Revenge (Instrumental) [4:31]
Other versions (Although one version features the original)
Side A
Roxanne's Revenge (Street Version) [4:20]
Roxanne's Revenge (Instrumental Street Version) [4:31]
Side B
Roxanne's Revenge (Vocal) [4:52]
Roxanne's Revenge (Instrumental) [5:01]
---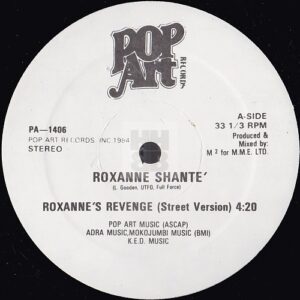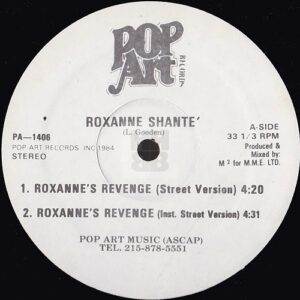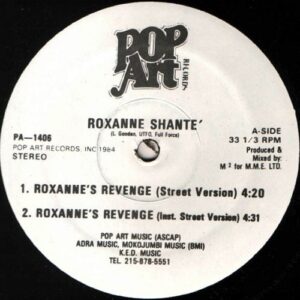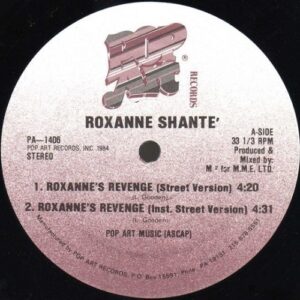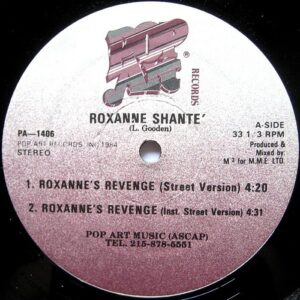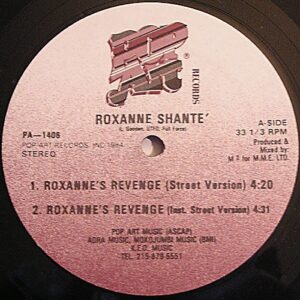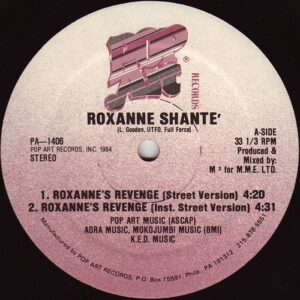 ---