Select Records (US) [FMS 62256] 1984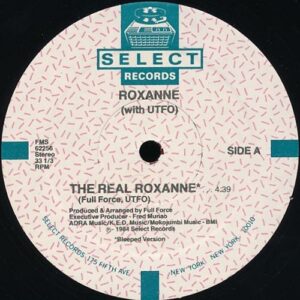 Following Roxanne Shante's scathing reply to 'Roxanne, Roxanne', U.T.F.O. sensed an opportunity and released this response to 'Roxanne's Revenge'. They hired a female rapper named Elease Jacks and crafted the persona of The Real Roxanne. As a bit of a twist they wrote the lyrics for Elease but actually dissed themselves. Elease was uncredited on the release.
The release also featured a scratch mix featuring Howie Tee & Mix Master Ice.
There are no label variations that I know of but there was a limited quantity pressed on red vinyl.
These tracks were also released in the UK on Streetwave Records complete with the tracks from their 'Hanging Out' release. Check it out HERE.
---
Side A
The Real Roxanne (Bleeped Version) [4:39]
Side Breal
Roxanne's Back Side (Scratch It) [4:58]
The Real Roxanne (Uncensored Version) [4:39]
---
---