Profile Records (US) [PRO-7036] 1983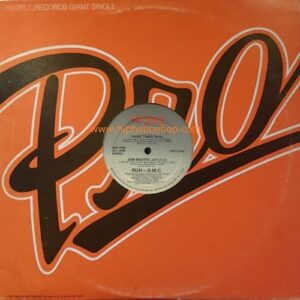 This was Run DMC's second single and was a cover version of the 1980 recording by Kurtis Blow but with a more up-to-date, harder edge. It also featured the bonus track "Jam Master Jay" mixed by DJ A.J. (R.I.P.) which was an ode to their DJ, a format copied many times since. Both tracks featured featured music once again from Orange Krush.
There are a couple of label variations which aren't pictured. A 1995 reissue with black label and silver text plus a 2004 BMG reissue, both of which are completely different to the original and easily noticeable.
---
Side A
Hard Times [5:10]
Jam-Master Jay [3:21]
Side B
Hard Times (Instrumental) [3:51]
Jam-Master Jay (Instrumental) [3:15]
---
---