Profile Records (US) [PRO-7019] 1983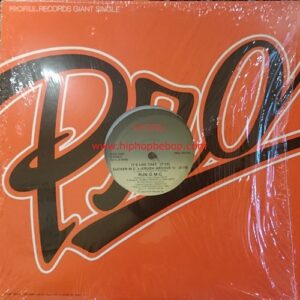 Hailing from Hollis, Queens, Run DMC are legends of hip hop and are well known for combining rock and rap.
They all started out as DJ's. Joseph Simmons aka Run was introduced to hip hop by his older brother, Russell, who was an up and coming promoter and would eventually go on to form Def Jam with Rick Rubin. Run began as a DJ for Kurtis Blow and was known as DJ Run, Son Of Kurtis Blow. After watching Kurtis perform he acquired a taste for rapping himself and began to perform with him on stage. Darryl McDaniels aka Easy D wouldn't DJ in public and was persuaded to rap by Run. The two eventually became friends with local DJ Jason Mizell aka DJ Jazzy Jase, later known as Jam Master Jay, after rapping in front of him in Two-Fifths Park in Hollis and in 1981 the group was born.
In 1983, after changing Easy D's name to DMC and giving them the group name of Run DMC, Russell Simmons landed them a deal with Profile Records and helped record their first release. The track was well received by the public and as a result, lead to 4 more singles and their debut album.
"It's like that", a song about Hollis life, was their debut release and was remixed and bootlegged by house music DJ, Jason Nevins, in 1997 before getting an official release a year later and setting a trend for house remixes of hip hop tracks. "Sucker MC's (Krush Groove I)" was originally just considered a bonus track but was the favourite for b-boys and DJ's. Both tracks were mixed by Kurtis Blow & Elai Tubo with music from Orange Krush. The beat from "Sucker MC's" was from a replayed version of "Action", the only track recorded by Russell Simmons, Larry Smith & Davy DMX aka Orange Krush which featured the vocals of Alyson Williams.
Marley Marl's first production, "Sucker DJ's" by Dimples D, was an answer version to this Run DMC classic.
There are a couple of label variations for this release including a 1995 official reissue with black label and silver text (Image to be uploaded when I find a decent scan) and an unofficial release which at first glance seems to look the same but does have some differences. The easiest way to tell is the unofficial release has no mastering stamp in the runout groove. If you're just looking at the labels however then the colours are slightly warmer on the unofficial release, the centre press ring is slightly smaller, the fonts are slightly larger, the spacing of the numbers on "33 1/3 RPM" differs and the ℗ next to 1983 is slightly higher on the original.
---
Side A
It's Like That [7:25]
Sucker MC's (Krush Groove I) [3:15]
Side B
It's Like That (Instrumental) [7:10]
Sucker MC's (Krush Groove I) (Instrumental) [3:05]
---
---