4th & Broadway (US) [BWAY-416] 1985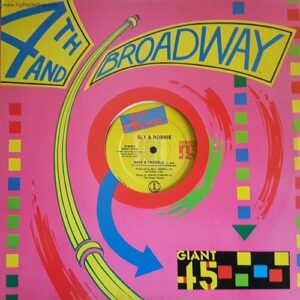 Known more for their reggae and dub releases, this track by Jamaican production duo of Sly Dunbar and Robbie Shakespeare was written and produced with the help of Bill Laswell and Manu Dibango. It was made famous by Capital Radio's Mike Allen (R.I.P.) on the Capital Rap Show as a talk-over.
The promo release has long and short versions only and omits the B side of the general release.
---
Promo Release [PRO-416]
Side A
Bass & Trouble (Short Version) [3:29]
Bass & Trouble (Long Version) [6:12]
Side B
Bass & Trouble (Long Version) [6:12]
Bass & Trouble (Short Version) [3:29]
General Release [BWAY-416]
Side A
Bass & Trouble [6:12]
Side B
Miles (Black Satin) [7:20]
---
---