Sound Of New York (US) [QC 708] 1979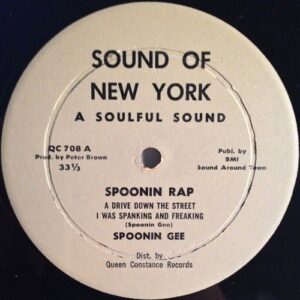 After the death of his mother at a young age, Gabriel Jackson aka Spoonie Gee, or Spoonin Gee as he was called on this release, moved in with his uncle Bobby Robinson, owner of Enjoy Records. It was in Bobby's apartment that he began rapping and was eventually suggested to Peter Brown after he visited Bobby's record shop and mentioned that he was looking to make a rap record.
Spoonie Gee's debut vinyl release was produced by Peter Brown and used the music of Cloud One's "Patty Duke". The intro was used as the intro to West Street Mob's "Breakdance…electric boogie".
There are quite a few label variations and also some modern day remixes, most of which are pictured below. The first pressings tended to have a single deep circular groove on the label with the company label printed as Sound Of New York and had no date on them. Second pressing have the label name changed to Sound Of New York, USA and also had the release date on them. There is also a hard to find pink marbled vinyl version.
Around 2002 a repress appeared which has Sound Of New York on one side and Sound Of New York, USA on the other plus the original release date.
Obvious notable exceptions include the two releases on alternative labels with remixes. Just out of interest, I have added their details below too.
---
Original Release
Side A
Spoonin Rap (A Drive Down the Street I was Spanking and Freaking)
Side B
Spoonin Rap (I Don't Drink Smoke or Gamble Neither I'm the Cold Crushing Lover)
Harlem Place Records Release [HP 1]
Side A
Spoonie Rap (Original version)
Spoonie Rap (Remix)
Side B
Spoonie Rap (Atmospheric version)
Ol' Skool Flava Release [OSF121017] 1999
Side A
Spoonin Rap [3:35]
Take It Off [6:52]
Side B
Spoonin Rap (The Chuck Nice remix) [3:00]
Spoonin Rap (The 45 King remix – When a wise man Speaks) [4:41]
---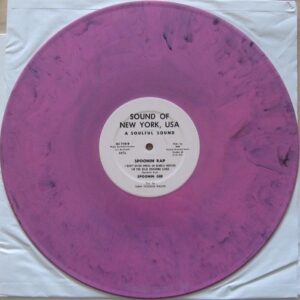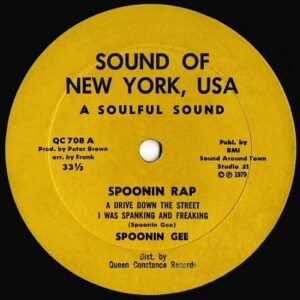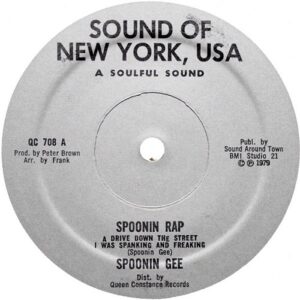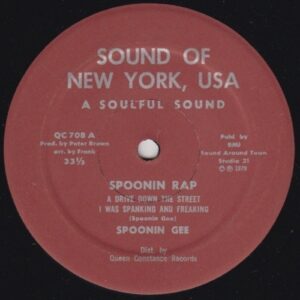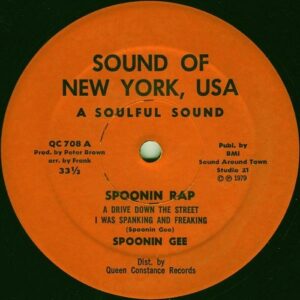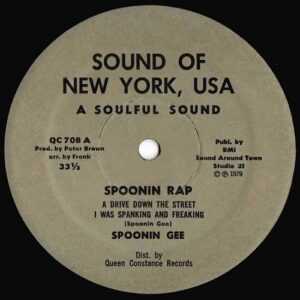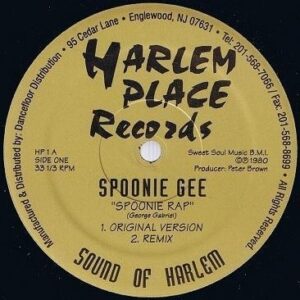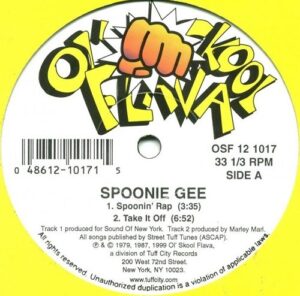 ---