Enjoy Records (US) [ER-6002] 1980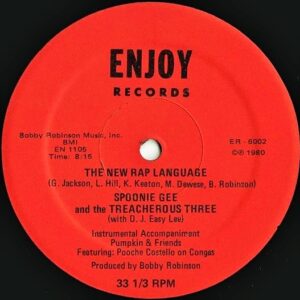 Originally school friends, The Treacherous Three consisted of Spoonie Gee, LA Sunshine and Kool Moe Dee with their DJ, Easy Lee. Although he remained affiliated with the group, Spoonie left to pursue his solo career and was replaced with Special K.
This was the debut appearance on wax from the group and featured two future classics back to back. Spoonie Gee partners up with the group for "The New Rap Language", while he goes solo on the flipside, "Love rap", which was a favourite amongst DJ's as a modern day breakbeat of the time.
There are a few variations of the label design and colour and a couple of later reissues that also include Spoonie's "New Love Rap". The first pressing is a red label and has the catalogue number starting ER whereas later pressings also have a silver label but the catalogue number starts EN and states "Classic Series" on the label until a couple of later obvious reissues revert back to ER. Also the first pressing states the time of "The New Rap Language" at 8:15 whereas the pressings that follow state 8:45. It would also seem that according to the runout grooves the pressings that followed also had the sides reversed and one even has the artist misspelt as Trecherous Three.
---
Original Release [ER-6002]
Side A
The New Rap Language [8:15]
Side B
Love Rap [5:45]
Classic Series [EN-6002]
Side A
The Love Rap [5:45]
Side B
The New Rap Language [8:15]
A Rap Classic [ER-6002]
Side A
The New Rap Language [6:02]
Side B
Love Rap [5:45]
New Love Rap [4:52]
Old School Hip Hop Classics [ER-6002]
Side A
The New Rap Language [6:02]
Side B
Love Rap [5:45]
New Love Rap [4:52]
Ol' Skool Flava Release [OSF 121009]
Side A
Love Rap [5:45]
Side B
The New Rap Language [8:00]
---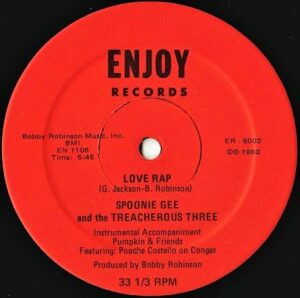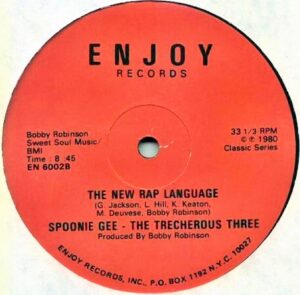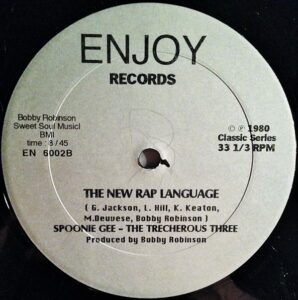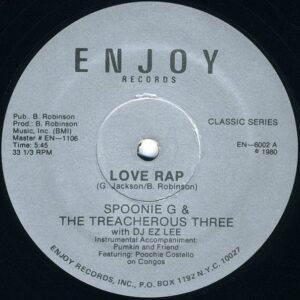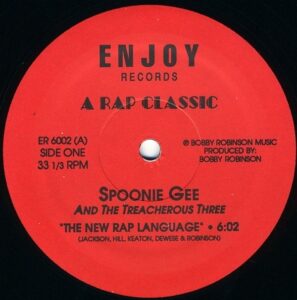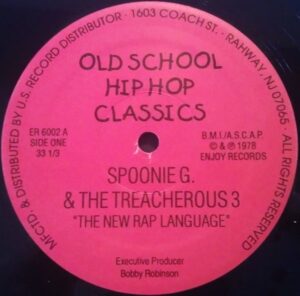 ---